Page Content
About the Author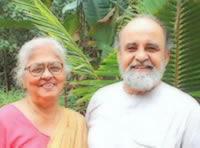 Author, Easaw Joseph John, with his wife, Achamma.
Born on the 9th of September 1929, to John Easaw, an Indian father, and Najeebah Weibber, an Iraqi mother, in the oil town of Kirkuk in Iraq, he was brought to, brought up and educated in India. After obtaining a Master's degree in English Language and Literature from the University of Travancore in 1954, he did a stint teaching English at St. Thomas College, Kozhencherry, before he left the shores of India, towards the end of 1955, to take up a teaching position in Tanganyika, then part of British East Africa. After teaching there for nine years -by which time the territory had become the independent nation of Tanzania- he left for London to specialise in the teaching of English as a Foreign Language at the Institute of Education University of London.
Returning to India in August 1965, he found an opening at the Lawrence School, Lovedale, one of the better-known public schools of India. Teaching there for over six years helped him broaden his horizons professionally. The opportunity to interact with some of the best teachers from across India was to stand him in good stead later on. In January 1972 he went back to Africa, this time to Zambia. And after teaching for two years at the well-known St. Paul's School in Mulungushi, he was deputed by the Ministry of Education to head the department of English at the Copperbelt Secondary Teachers' Training College in Kitwe. His experience there for the next three years as a teacher-trainer helped him secure headship of the English Section at the United Nations Institute for Namibia, where administrator-trainees for a nascent independent Namibia were being groomed by the U.N. He taught there for seven years. However, his misgivings about the questionable academic antecedents of the trainees -which he had expressed in his paper at an international seminar- did not go down well with the Namibian political leadership, whose immediate concern was the urgency of the need rather than the excellence of the end product. His contract was not renewed. He and his wife left for London in 1984.
"Sweet are the uses of adversity et cetera." Three months later, in the August of 1984, he was appointed by the King Saud University to teach English at their Institute for Languages and Translation. For the next ten years, until he retired at the age of sixty-five, he taught English in Riyadh to Arab university students. Incidentally, there he was able to learn Arabic, his mother tongue. Since his retirement, he has turned to writing. Also, as a member of the Y's Men International, he involves himself in community service. He also teaches English, as a labour of love, to those in need of enhancing their communicative competence. Occasionally, he and his wife travel abroad for a holiday.
His wife Achamma, a charming woman and a wonderful helpmeet, is a retired secondary-school teacher, having taught geography with great success both in Africa and in India. They have three children: Bobby who is presently in London, Jacob in Denver, Colorado, and Miriam in Mumbai.